Product Description
Polypropylene pall ring is one of the most commonly used plastic pall ring packing.pp pall ring resistance temperature is more than 100 degrees celsius, and it also have good acid resistance.Polypropylene(PP)a thermoplastic resin produced by the polymerization of propylene. In general industrial production of polypropylene resin, the content of the structural content of about 95%, and the rest for the random or inter - regulation. Industrial products as the main components of the composition. Polypropylene also includes a copolymer of propylene and a small amount of ethylene.The copolymer type polypropylene pall ring material has a lower thermal deformation temperature (100 degrees C), low transparency, low gloss, low rigidity, but has a stronger impact strength, the impact strength of PP increased with the increase of ethylene content. PPA softening temperature is 150. Due to the high degree of crystallinity, the surface stiffness and scratch resistance of this kind of material are very good. PP does not exist the problem of environmental stress cracking.
PP Pall ring has features such as high free volume, low pressure drop, low mass-transfer unit height, high flooding point, uniform gas-liquid contact, small specific gravity, high mass transfer efficiency and so on.
our company promise our pp maerial will be 100% virgin material, no recycle pp material used in our factory.
Applications:
Aviation industry
Automotive industry
Brominating plants
Chemical industry
Caustic soda plants, CL lines
Deionization plants
Nuclear waste processing
Pharmaceutical industry
Paper and pulp process lines
Characteristic:
1. Low pressure drop, large void space, large flux, high mass-transfer effiency, low energy consumption etc.
2. Excellent distribution in tower packing.
3. Widely used in seperation and absorption process, reducing pressure for device, deviating sulfur for your systems. Can easily isolate Ethylbenzene, Toluene, Trimenthypentane etc.
4. Package: Enhanced plastic super bag in jumbo bag, wooden case or carton. Other packing methord are available upon our request. Different package, different packing size, it's optional.
5. Operational temperature range: Up to +100°c
Specificaton: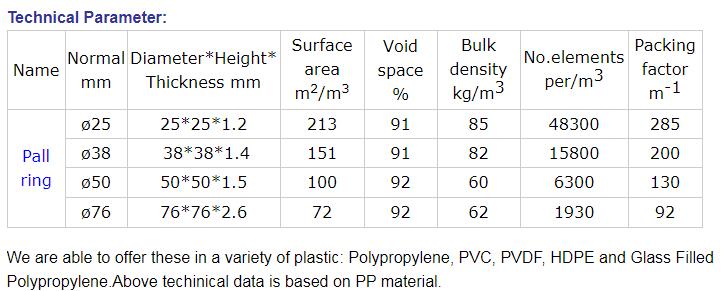 If you're intertested on our tower packing products, please send your inquiry to our email address.